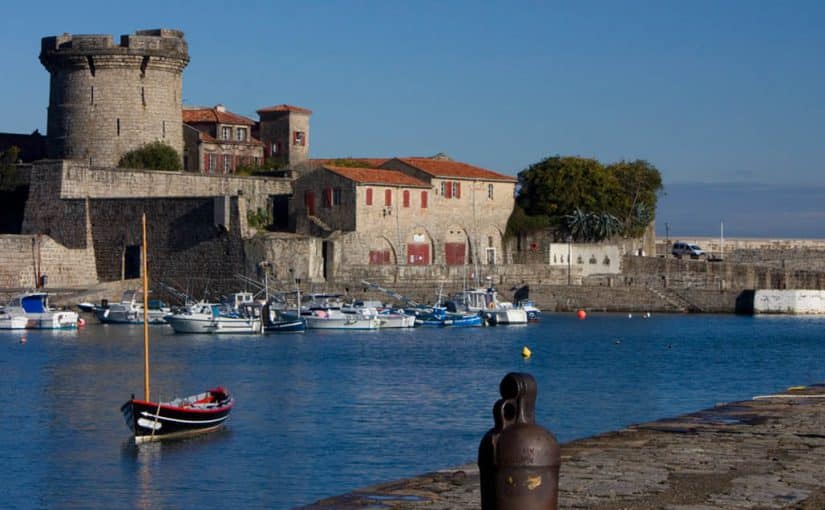 Ciboure
Camping near Ciboure by the sea
Just 5 km from Camping Village Eskualduna (4 stars), a mere 4-minute drive from Hendaye, you'll find the charming corsair town of Ciboure. Perfect for spending the day, or even half a day, for a refreshing dip in the beach, you can get there by taking the Corniche road, on foot or by car.
Your vacation in Ciboure on a campsite in the Basque Country
The easiest way is to park in the large dinghy parking lot in Socoa, and walk quietly along the small port, the Fort de Socoa and its small beach, and finish along the seawall. You'll enjoy a superb view of the whole bay, which it shares with St Jean de Luz. If you're there on a stormy day, you'll enjoy the spectacle of the waves crashing against the breakwater, ending up in the sky. Careful not to get wet!
On the way back, if you've got a bit of time left, and if you're a wine lover, don't hesitate to visit Egiategia, for a tasting of the local wine, which grows on vines in Urrugne, facing the Corniche, and ferments cool underwater at a depth of 15 meters in the bay of Saint Jean de Luz-Ciboure.

What to do in Ciboure
Ciboure is also and above all known for its gastronomy, and its speciality fish and shellfish dishes… Ciboure, a fishing village, was for a long time a haven for freebooters, privateers and whale hunters. Today, it's a major port, with anchovy, line hake and tuna fishing the main activities. If you like to cook fish, you can buy freshly caught fish at the auction, sold directly by small-scale fishermen. If you prefer to put your feet under the table, Ciboure is full of little addresses. One of our favorites is Chez Mattin. Ask for the Ttoro: a sublime fish soup.
What to see in Ciboure
A little further on, in the heart of the town, you'll find the Place du Fronton, close to the Town Hall, a building typical of local architecture. A few steps away, you'll find the old fountain dating back to 1676, which was once used as a washhouse. Don't hesitate to get lost in the narrow streets lined with traditional houses, because that's what the Basque Country is all about. Higher up, you may be able to photograph the Maison des glycines, then a little further down, the church of Saint Vincent. Tip: take the small staircase after the church square, and you'll have a splendid view of the harbor and Saint Jean de Luz in the background.
If you're there on a Sunday morning, why not take a stroll along the marina, past Maurice Ravel's birthplace, one of Ciboure's most photographed monuments.
In summer, Ciboure offers a wide range of typical activities and events: Basque strength festivals, pelota tournaments, traditional song and dance shows, fireworks displays. As you'll have guessed, this is another not-to-be-missed stopover on your vacation in the Basque Country, if you stay at Camping Eskualduna.
Campsite near Ciboure on the Basque Coast
Our campsite is located on Hendaye beach (with free shuttle bus in season) in the heart of the Basque Country.
You can rent a mobile home or a camping pitch. You'll find all the facilities you need for your comfort, including a grocery store, restaurant, two-pool swimming pool and even wifi internet access.